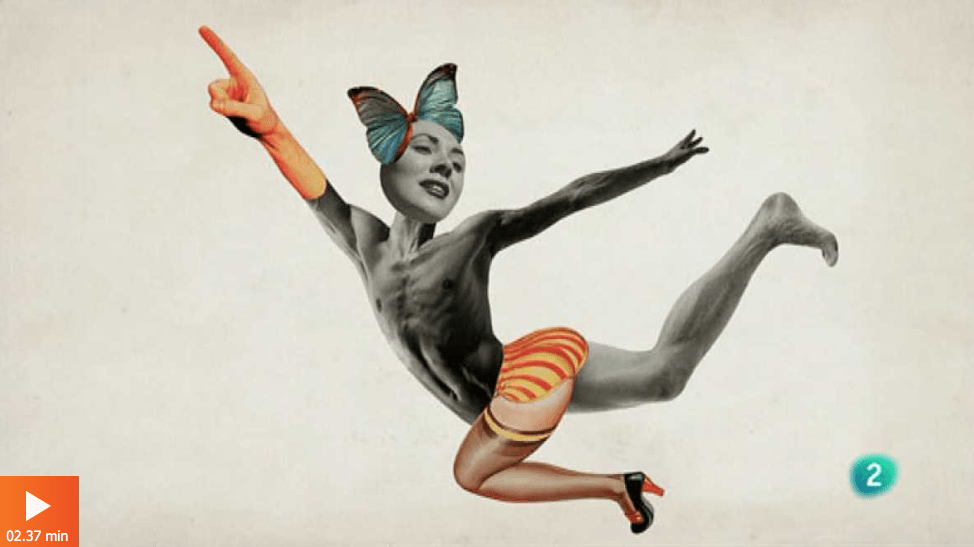 Rebeka Elizegi is a collage artist, art director and graphic designer based in Spain.
In parallel with her exhibitions, which have a more artistic and personal feel, her collages have also appeared on the covers of books and magazines, not to mention on albums and posters and as part of decorative projects. She has also published various illustrated books that are based on collage.
Her work has been exhibited in Barcelona, Madrid, Los Angeles, and Berlin, and her illustrations have been featured in publications like Sample Magazine, Kolaj Magazine, BLNC Magazine, and many others.
She is also the author of the books Collage Therapy (2017) and Collage by Women (2019) (Promopress Editions).
She has collaborated as an illustrator with the newspapers La Vanguardia and Der Spiegel.
She is member of the artists associations MAV, BNM and VEGAP.

Solo Exhibitions:
La Isla Gallery – Madrid – Solo exhibition – March 2017
Arteuparte Gallery – Donostia – Solo exhibition – March 2017
El Imparcial – Madrid – Solo exhibition – February 2017
Arteuparte Gallery – Donostia – Solo exhibition – June 2016
La Fiera – Madrid – Exhibition and prints for sale – 2011-12
Consentido – Madrid – Exhibition – Mural work – 2011-12
Permanent Exhibitions:
Antidote Art Gallery – Bayonne – Permanent exhibition. Original work and prints for sale
El Imparcial – Madrid – Permanent exhibition. Prints for sale
Arteuparte Gallery – Donostia – Permanent exhibition. Original work and prints for sale
Las cosas de Martínez – Barcelona – Permanent exhibition. Original work and prints for sale
La Quadra 15 – Castrourdiales – Permanent exhibition. Prints for sale
Collective exhibitions:
MUA (Museo de la Universidad de Alicante) – Pluri-Identitats – "Remix", project selected for the Biennial Contest of Visual Arts Pluri-Identitats 2019. March 2019
Hybrid Contemporary Art Fair 2019 – Participation in the fair with the presentation of the "Beatnik" series with Arteuparte Gallery. March 2019
UAM – Sala de exposiciones de la Universidad Autónoma de Madrid – Una de cada tres – Collective exhibition – November 2018
Museo Florencio de la Fuente – Cuenca – Ellas y el tejido social – Collective exhibition – September 2018
Galería Las cosas de Martínez – Barcelona – Puro Collage – Collective exhibition – May 2018
Galería Rizoma – Madrid – Arte en emergencia – Collective exhibition – March 2018
Galería Espai Cavallers – Lérida – Dones d'art – Collective exhibition – March 2018
CC Julio Cortazar – Madrid – Lo hace por que te quiere – Collective exhibition – March 2018
Lecrác – Palencia – Collective exhibition – October 2017
CEART Fuenlabrada – Collective exhibition – September 2017
Espai Cavallers Gallery – Lérida – Collective exhibition – July 2017
Tigumigu Gallery – Terassa – Collective exhibition – May 2017
Women House – Zaragoza- Collective exhibition – April 2017
Espai [B] Gallery – Barcelona. Collective exhibition – July 2015
Artevistas Gallery – Barcelona – Permanent exhibition and original work for sale – 2015
Mutuo Art Center – Barcelona – Permanent exhibition and prints for sale – 2015
Linus Art Galleries – Los Angeles – Work selected as "Juried Exhibition Winner"
Collective exhibition "The Opposite Sex" – 2015
Espai [B] Gallery – Barcelona – Collective exhibition – December 2014
Pop-Up Art Gallery – Berlín – Collective exhibition – September 2014
Fieber Festival – Berlín – Participation in collective exhibition of plastic artists in
the Fieber Festival – 2013
Publications / interviews in art and collage magazines:
Empty Mirror / Beatnik
Boek Visual
Promopress Editions
Mujeres Mirando Mujeres
BLNC Magazine
The Lighting Mind
Empty Mirror
Gestalten Crativa Pool
Oneric Magazine
Clavoardiendo
Kolaj Magazine
Revista Visual
Cults of life nº 4 Magazine
Collage Artist Trading Cards, Pack Six
Sample Magazine #3
www.toombes.com
Inspirational Issue #12
Arteuparte #28
Hi-Fructose The New Contemporary Art Magazine
Gozar Magazine
JungKatz
Le blog du Kisch
Arte aun click
MAV. Mujeres en las Artes Visuales / Women in the Visual Arts