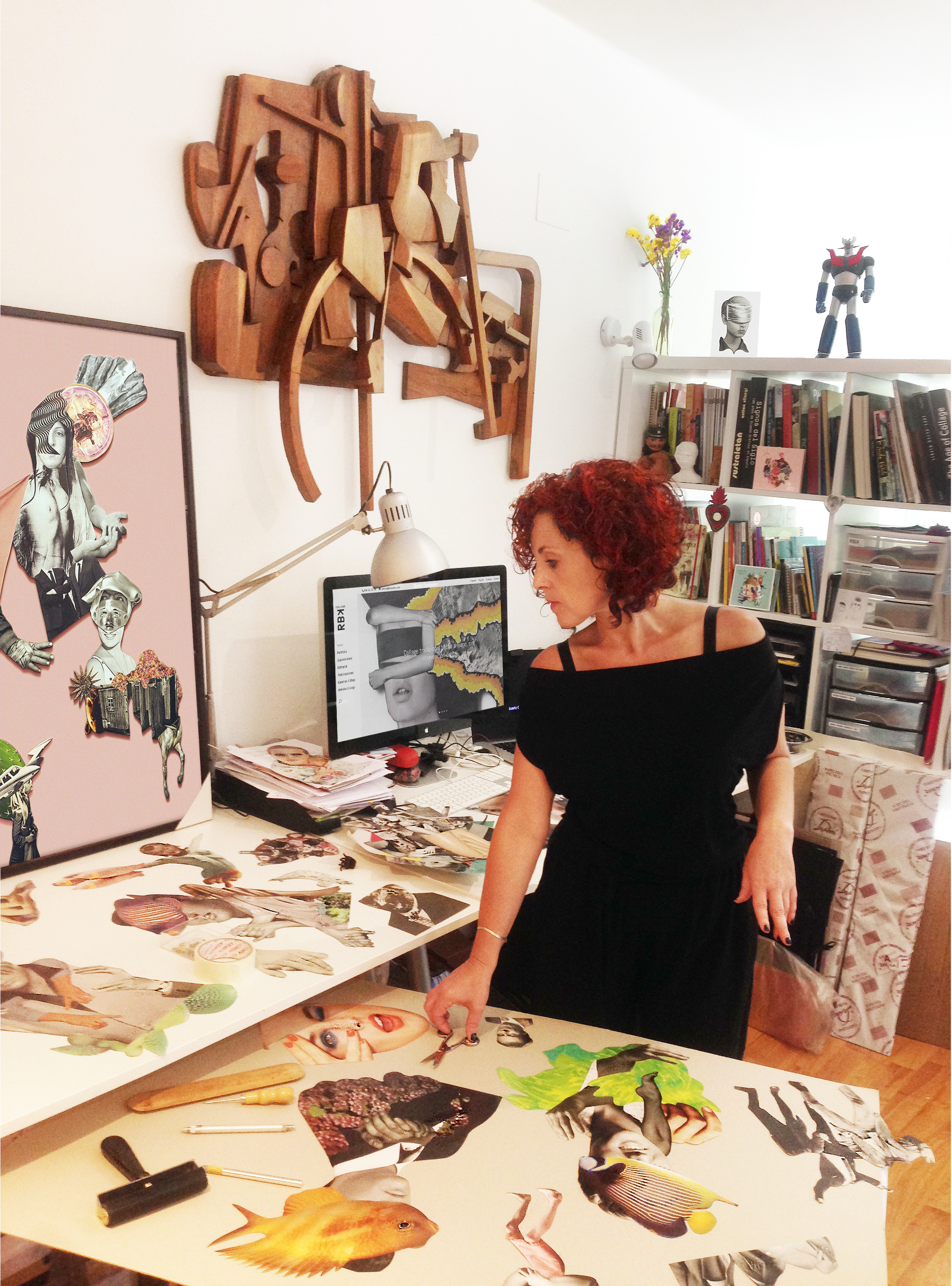 Rebeka Elizegi is a collage artist, art director and graphic designer based in Spain.
In parallel with her exhibitions, which have a more artistic and personal feel, her collages have also appeared on the covers of books and magazines, not to mention on albums and posters and as part of decorative projects. She has also published various illustrated books that are based on collage.
Her work has been exhibited in Barcelona, Madrid, Los Angeles, and Berlin, and her illustrations have been featured in publications like Sample Magazine, Kolaj Magazine, BLNC Magazine, and many others.
She is also the author of the books Collage Therapy (2017) and Collage by Women (2019) (Promopress Editions).
She has collaborated as an illustrator with the newspapers La Vanguardia and Der Spiegel.
She is member of the artists associations MAV, BNM and VEGAP.
PUBLISHED BOOKS:
· BEATNIK. A tribute to the poets of the beat generation (Fiasko Books 2020). Author of the book.
· Collage firmado por Mujeres / Collage by Women (Promopress 2019 – spanish and english). Author and curator of the book.
· Collage Terapia / Collage therapy / La thérapie du collage (Promopress 2017 – Spanish, French, English and Italian). Author of the text and illustrations.
· i minuscule (Balivernes Editions 2013 – French). Author of the illustrations.
· Una flor de repuesto para mamá / Una flor de recanvi per a la mare (Takatuka 2011 – spanish and català) / Ordezko lore bat amarentzat (Denonartean 2011 – euskara). Author of the text and illustrations.

PRIVATE COLLECTIONS::
· RETROAVANGARDA GALLERY (Warsaw)
· DOUG + LAURIE KANYER ART COLLECTION (EEUU)
· MARIO VAQUERIZO (Spain)
· PABLO SYCET (Spain)
· COUPEE COLLAGE COLECTIVE (Belgium)
SELECTIONS AND AWARDS:
· DFERIA: Winning poster for the XXVII edition of the Festival of performing arts dFERIA, Donostia / San Sebastian, Spain 2021
· BEATNIK: Series selected in the 13th Edition of the call for Visual Arts MULIER MULIERIS, Museo MUA, Spain 2020
· COVID EXIT: Work selected for the international exhibition #CovidExit, organized by # MadridGráfica, Spain 2020
· MIX: Series selected in the 1st Edition of the call for Visual Arts PLURI-IDENTITATS,, MUA Museum, Spain 2019
· INSOMNE: Work selected by Linus Art Gallery for the collective exhibition, «The Opposite Sex» Los Angeles, USA 2015
PRESS COLLABORATIONS:
· La Vanguardia
· Der Spiegel
· Kolaj Magazine
· Visual
· Allbrigth Magazine

SOLO EXHIBITIONS:
· Arteuparte Gallery – Donostia – Solo exhibition – BEATNIK – December 2020
· La Isla Gallery – Madrid – Solo exhibition – March 2017
· Arteuparte Gallery – Donostia – Solo exhibition – March 2017
· El Imparcial – Madrid – Solo exhibition – February 2017
· Arteuparte Gallery – Donostia – Solo exhibition – June 2016
· La Fiera – Madrid – Exhibition and prints for sale – 2011-12
· Consentido – Madrid – Exhibition – Mural work – 2011-12
PERMANENT EXHIBITIONS:
· Los Artistas del Barrio – Madrid – Permanent exhibition. Prints for sale
· Es Foraster – Menorca – Permanent exhibition. Prints for sale
· El Imparcial – Madrid – Permanent exhibition. Prints for sale
· Arteuparte Gallery – Donostia – Permanent exhibition. Original work and prints for sale
· Galería Espai B – Barcelona – Permanent exhibition. Original work for sale
COLLECTIVE EXHIBITIONS:
· Géneris – Project selected for the Pluri-Identitats Visual Arts Biennial 2021. March 2021
· Charles Bukowski – «XIV edición del Festival de Arte Independiente Pepe Sales 2021» Girona – February 2021
· Prostitución – Collective exhibition organized by BNM – Virtual headquarters of the UNED – February 2021
· Covid Exit: Exhibition organized by # MadridGráfica20 and Di Madrid
· Mujeres Mirando Mujeres – Online – Las Resilientes – Collective exhibition – Juny 2020
· Arte a un Click – Online – Covid19 versus Coovid20 – Collective exhibition – April 2020
· Retroavangarda Gallery – Warsaw _ Poland – III International Collage Exhibition- April 2020
· MUA (Museo de la Universidad de Alicante) – Mulier Mulieris – «Beatnik», project selected for the Biennial Contest of Visual Arts Mulier Mulieris 2019. March 2020
· Museo de las Mujeres Costa Rica – Costa Rica – Mujeres Encarceladas – Collective exhibition – February 2020
· Casa de cultura Mieres – Mieres, Asturias – Una de cada tres – Collective exhibition – November 2019
· Museo Centre d'art – Espace Monet-Rollinat – Fresselines – France – Journée internationales du Collage – Collective exhibition – October 2019
· Irudigileak-Mujeres Ilustradoras – Donostia– Olatu Talka Festival – June 2019
· Cohete Toledo – Toledo –  Urban Art Festival – May 2019
· Masham Gallery – North Yorkshire – UK  – Cut & Paste –Collective exhibition – April 2019
· MUA (Museo de la Universidad de Alicante) – Pluri-Identitats – "Remix", project selected for the Biennial Contest of Visual Arts Pluri-Identitats 2019. March 2019
· Hybrid Contemporary Art Fair 2019 – Participation in the fair with the presentation of the "Beatnik" series with Arteuparte Gallery. March 2019
· UAM – Sala de exposiciones de la Universidad Autónoma de Madrid – Una de cada tres – Collective exhibition – November 2018
· Museo Florencio de la Fuente – Cuenca – Ellas y el tejido social – Collective exhibition – September 2018
· Galería Las cosas de Martínez – Barcelona – Puro Collage – Collective exhibition – May 2018
· Galería Rizoma – Madrid – Arte en emergencia – Collective exhibition – March 2018
· Galería Espai Cavallers – Lérida – Dones d'art – Collective exhibition – March 2018
· CC Julio Cortazar – Madrid – Lo hace por que te quiere – Collective exhibition – March 2018
· Lecrác – Palencia – Collective exhibition – October 2017
· CEART Fuenlabrada – Collective exhibition – September 2017
· Espai Cavallers Gallery – Lérida – Collective exhibition – July 2017
· Tigumigu Gallery – Terassa – Collective exhibition – May 2017
· Women House – Zaragoza- Collective exhibition – April 2017
· Espai [B] Gallery – Barcelona. Collective exhibition – July 2015
· Artevistas Gallery – Barcelona – Permanent exhibition and original work for sale – 2015
· Mutuo Art Center – Barcelona – Permanent exhibition and prints for sale – 2015
· Linus Art Galleries – Los Angeles – Work selected as "Juried Exhibition Winner" Collective exhibition "The Opposite Sex" – 2015
· Espai [B] Gallery – Barcelona – Collective exhibition – December 2014
· Pop-Up Art Gallery – Berlín – Collective exhibition – September 2014
· Fieber Festival – Berlín – Participation in collective exhibition of plastic artists in
the Fieber Festival – 2013
PUBLICATIONS / INTERVIEWS IN ART AND COLLAGE MAGAZINES:
· Empty Mirror / Beatnik
· Boek Visual
· Promopress Editions
· Mujeres Mirando Mujeres
· BLNC Magazine
· The Lighting Mind
· Empty Mirror
· Gestalten Crativa Pool
· Oneric Magazine
· Clavoardiendo
· Kolaj Magazine
· Revista Visual
· Cults of life nº 4 Magazine
· Collage Artist Trading Cards, Pack Six
· Sample Magazine #3
· www.toombes.com
· Inspirational Issue #12
· Arteuparte #28
· Hi-Fructose The New Contemporary Art Magazine
· Gozar Magazine
· JungKatz
· Le blog du Kisch
· Arte aun click
· MAV. Mujeres en las Artes Visuales / Women in the Visual Arts